Minutes from a meeting of Cropthorne Parish Council held on Monday July 2nd 2018 in the Village Hall at 7pm
PRESENT :
Cllr B Annis Cllr J King Cllr R Segar
Cllr W Clive Cllr R Kelly Cllr M Anderson
Clerk L Yapp
7 members of the public
APOLOGIES – Cllr S Smythe, District Cllr M English and County Cllr E Eyre
DECLARATIONS OF INTEREST – Cllr King – Village Hall matters
Cllr Annis – Planning Application 18/01045 – Riverside Lodge
APPROVAL OF MINUTES – Minutes from previous meetings were approved and signed – proposed Cllr Clive, seconded Cllr Segar – all in favour
PARISHIONERS QUESTION TIME: The following issues were recorded:
a) Overgrowth – A request for overgrowth to be cleared from the bus stop on the B4084 Action Lengthsman. Also overgrowth needs cutting back from Main Street (between Pound House and Orchard Rise), and also from land at the bottom of Brook Lane. The clerk will write to landowners
b) Holland House – a request for staff to use the car park, rather than park in the road Also for the sign to Holland House to be secured Action Clerk.
c) Church Wall – a request made for weeds to be cleared from within and in front of the church wall Action Lengthsman.
PLANNING:
a) 18/00489 – Rorkes Drift, Main Street – proposed car port – approved by WDC
b) 18/00539 – The Pound Main Street – internal and external alterations associated with boiler installation – approved by WDC
c) 18/00682 – Greenacres – proposed garage and store – approved by WDC
d) 18/01045 – Riverside Lodge, Neigh Lane – conversion of existing velux window to dormer window Cllr Annis did not participate in discussion. There were no objections to this application
VILLAGE HALL – Cllr King reported:
Vandalism – again an issue with substantial damage caused at the weekend. This also included the village 'traffic calming' gates. The police had been informed
HIGHWAY MATTERS
Field Barn Lane Verges – Cllr Clive is to meet with a representative from CC to assess what is still outstanding.
Parking, Blacksmith Lane – the situation has improved slightly, and would be monitored
DISTRICT COUNCILLORS REPORT – available from clerk or can be found on the village website with these minutes
MATTERS ARISING:
Lengthsman – issues for the Lengthsman to address were covered in Parishioners Question Time at the beginning of the meeting
New Home Bonus – Quotes are still being sourced for toilet facilities at the village hall which could be accessed when the hall is closed
2018/13
Speeding in Brook Lane/Neigh Lane – the parish council have been in contact with County Council and are hopeful that we can work together towards a satisfactory outcome for residents. Some remedial work (cutting back of overgrowth in Brook Lane) to ensure better visibility of road signs, will be carried out by the LM imminently.
FINANCE
Payments made since the last meeting/for authorisation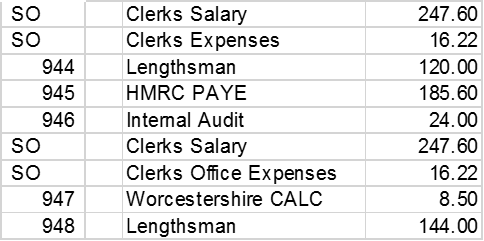 (b) Current account balance:
(incl. unpresented cheques) £1419.20
Deposit account: £21,818.17
(c) AGAR (Audit) – Internal audit had been carried out, with no issues raised. All documentation relating to finance is available to view on notice boards, website or vial the clerk
(d) Following recommendations by NALC, it was agreed that the clerks hourly rate be increased to £11.175 per hour. This would mean an annual increase of £75.60. Proposed Cllr Annis, seconded Cllr Clive – all in favour
GDPR – the clerk has been working with Cllr Segar, and a draft Privacy Notice and Data Protection Policy has been put together. This to be circulated to all Cllrs with a view to adopting at the September meeting. It was agreed that all emails to residents should have an 'opt out' statement added. As those on the list had already contacted the clerk with a view to being added, this was all that was required to satisfy legislation.
ANY OTHER BUSINESS/ FOR DISCUSSION AT FUTURE MEETING – nothing to report
DATE OF NEXT MEETINGS – Monday 3rd September